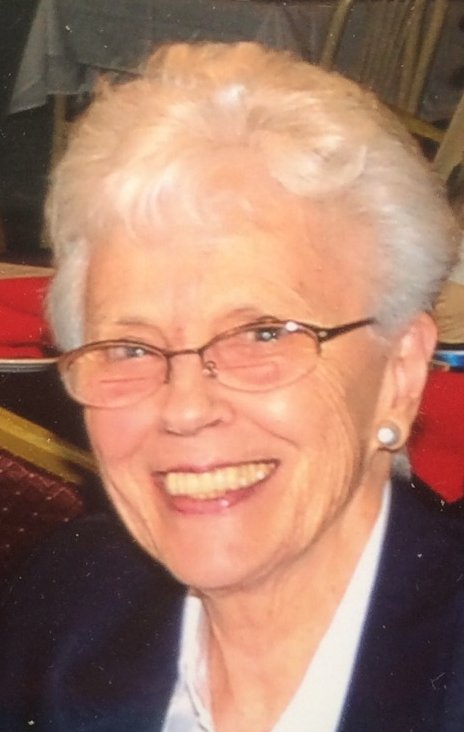 Obituary of Grace M. DeMaio
(Do not delete this line. It does not print. Text that is to appear on web must be entered after this line)«
Grace Marlene (Landrum) DeMaio, 87, passed away at Samaritan Center Hospice in Voorhees on March 19, 2020 surrounded by her loved ones. Her kindness, selflessness, patriotism, and loving smile will be sorely missed. Grace was born on November 23, 1932 in Englewood, NJ to Mabel Cecilia (Reed) and Carl Oscar Landrum, an engineer and US Navy veteran in the Submarine Corps. Her parents' ancestors immigrated to America from Ireland during the Potato Famine. She and her sister, Mary Ivadelle, helped her parents in their convenience store until she and her mother moved to Wood Street in Vineland in 1949. A majorette at Vineland High School and nicknamed "Landy" she was known for her lightness of heart and twinkling smile. She was an active class member and later attended virtually every class reunion. After graduation in 1951, she worked at Top O Mart Clothing as a bookkeeper and secretary. Grace met her future husband, Frank, while he was in medical school, on a blind date, with Judy and Conie Gallo. They married at Sacred Heart Church on Sept 14, 1957. She was a Vineland resident for over 65 years.
A breast cancer survivor, Grace was well known for her keen memory, many talents, and fascination with birds. A lifelong student, she took cooking and cake decorating courses, as well as classes in accounting, needlepoint, swimming, dancing, and tennis. She was an agile ice skater, dancer, and bowler. Grace loved historical novels. Her circle of friends formed an investment club and studied the Wall Street Journal and other financial publications. Their investments with monopoly money far outdid the returns of the families' advisors! Grace supported many charities for the needy and was a member of Catholic Daughters. A pet lover, she cared for a menagerie over the years with feral cat Camille being her most recent snuggle buddy. She never missed a birthday or special occasion; all without the benefit of a smart phone. Grace was responsible for continuing and starting many family traditions, most centered on holidays, special occasions, and anniversaries.
Grace shared travels with her family and friends. Two of her most favorite trips were with her sister, Mary, to Old San Juan, Puerto Rico and Ireland. She visited Italy to meet her in-laws. Her farthest journey was to China to visit her son Francesco and then daughter-in-law Gail (Getsinger) Branc in China. Her trips with June and Norman Cohen to Cape May, Hollywood, and Florida were a constant source of pleasure. She later explored fascinating locations as her daughter's guest while escorted by son Frank with the Association of Bone and Joint Surgeons.
Grace is survived by her husband of 62 years, Frank. She was the proud mother of three children (all VHS graduates): Marlene Grace, Francesco, and Frank Nicholas. All are respected professionals who each have hobbies, too. Grace was predeceased by her parents; her sister Mary Ribaudo, well as her in-laws Genoveffa and Francesco DiMaio and Mary and Salvatore Chiofalo. Grace is also survived by Candida "Connie" (DeMaio) and James "Doug" Logan; cousin Josephine (Tondreaux) Lunness; nieces Mary Sharon (Waylen) Bedrosian, Carol Logan and Kent Lew, Roberta (Chiofalo) Uniglicht; nephews Edward Mark Waylen, Salvatore and Lucy Chiofalo, and James "JD" Logan. Other special surviving relatives include the Krasnovs Carolee and Jim, as well as Christopher Chiofalo and Stephanie Chiofalo. She leaves behind many grandnieces and grandnephews. Her family extends sincere thanks to all those who showed care and concern in her several last years particularly Alice Weiss, Paula Hirsch, Kathy Oviedo, and Ms. Oviedo's family.
Due to the pandemic and New Jersey state regulations, a private visitation occurred at Rone Funeral Service on Friday, March 27, 2020 followed by internment at Siloam Cemetery in Vineland. A celebration of her life and Catholic Mass will be held at a later date.
Contributions may be made in her memory to: The Samaritan Center, 5 Eves Drive, Suite 300, Marlton, NJ 08053, Attn: Development Office, (856) 552-3205 (samaritannj.org/giving/donate-now/); Christ the Good Sheppard Parish, 1655 Magnolia Road, Vineland, NJ 08361, (856) 691-4490; or South Jersey Regional Animal Shelter, Vineland, NJ, (856) 691-1500 (southjerseyregionalanimalshelter.org/donate/inmemory/). Grace liked people to have choices. Please share a smile in her honor.
To send online condolences please visit our website www.ronefuneralservice.com
Share Your Memory of
Grace