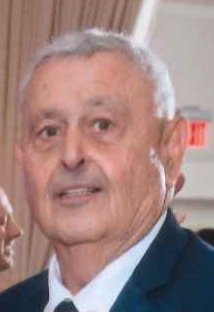 Obituary of Loreto "Lou" Coia
Loreto Vincent 'Lou" Coia, passed away on August 7, 2019 surrounded by his family. He was the son of the late Vincent "Jimmy" and Mary (DelRosso) Coia. He was born on October 15, 1942 in Upper Darby, PA Lou was a few months old when his parents decided to move back to Vineland to pursue a farming life. He lived on Vine Road his entire life and would not have it any other way. After attending Buena Schools, Vineland High Scholl (1960), Lou attended Glassboro State College (Rowan University) as did his daughter and two of his grandsons. He was a teacher for thirty-six of thirty-eight years at Delsea Middle School, twenty-two of those years on split sessions. He loved his job and always said, "I had the best job for thirty-eight years... great kids, best co-workers, along with everyone else involved with the school." As a teacher Lou was very involved with his students. He was the 7th grade class advisor. he and his co-advisor, Doris Terilla, provided many activities including monthly dances, many class trips to New York, Philadlephia, and throughout New Jersey. These class advisors still today have arranged monthly breakfasts (18 years retired) and the annual Christmas party, all which are well attende. After Lou secured his first teaching job he met and married his wife of ____ years, Gracelyn (Lisi) Coia. They had three children Lisa Coia DeCesero (Frank deceased ), James Coia (Kristin) and marisa Coia. These children gave them six grandchildren; twins Christopher (Renea) and Michael DeCesero, Angelo DeCesero and Lea, Sara and Vincent Coia. Lou and gracelyn have always been a big part of their lives in school, sports, etc. The biggest bonus for Lou and gracelyn was to be able to babysit Lea, Sara and Vinecent from infants until they started school. Lou also spent time having a large garden, loved to cook, and invite anyone to dinner. Lou always said, "I've had the best of both worlds, great family and great school family." Lous is also survived by two sisters, MArian Tamanini (David) and beverly Bocchese (Larry). Next door nieces; Tricia DeMaio (Pete), Nina Capoferri (Adam), Dana MacFarland (Ryan) and Christa Tamanini. Also, survived by three sisters-in-law, LAura, CArol and Anne, as well as many nieces and nephews. Louwas predeceased by his only brother Robert Coia and greatest son-in-law Frank DeCesero Jr. FINALLY, farewell to the Thursday night 'Cousin's Group".
Visitation
8:45 am - 9:45 am
Saturday, August 10, 2019
New Jersey, United States
Visitation
6:00 pm - 8:00 pm
Friday, August 9, 2019
Rone Funeral Service
1110 East Chestnut Avenue
Vineland, New Jersey, United States
Mass of Christian Burial
10:00 am
Saturday, August 10, 2019
Our Lady Of The Blessed Sacrament - Church Of St. Michael
504 West Avenue
Minotola, New Jersey, United States
Service Time: 10:00 AM
Share Your Memory of
Loreto "Lou"