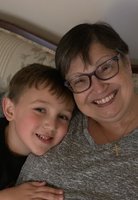 Frances Butler
(Do not delete this line. It does not print. Text that is to appear on web must be entered after this line)«
Frances "Franca" (Boscaglia) Butler, 61, of Vineland, New Jersey, passed away on Thursday, May 7, 2020 at home surrounded by her loving family. Born in Sicily, she and her family moved to New Jersey in 1966. Frances went to Vineland High School graduating with the Class of '78. She loved spending time with her family as her children and grandson were her pride and joy.
She is survived by her two daughters Stephanie Butler and Malissa Butler; son William Butler (fiancé Jenna Gallucci); grandson Lucas Nello Comparri; her mother Rosa (Rizzo) Boscaglia and her brother and sister-in-law, Anthony & Jackie Boscaglia. Frances was predeceased by her father Frank Boscaglia.
Due to Covid-19 restrictions services will be private.
ARRANGEMENTS are under the supervision of Rone Funeral Service, 1110 E. Chestnut Avenue, Vineland, NJ 08360
To send online condolences please visit our website at www.RONEFUNERALSERVICE.com