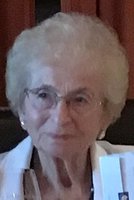 Dora Barbarotto
Dora (Ridolfi) Barbarotto, 93, of Buena Vista Twp. passed away early Wednesday, November 27, 2019 in her home surrounded by loved ones. She was born June 20, 1926 in Scranton, PA to Angelo and Lucia (Moretti) Ridolfi. At the age of 10, she moved with her family to Richland, NJ where she attended the Richland, Minotola and Cleary Schools and in 1944 graduated from Vineland High School.
Dora married Nicholas Barbarotto on June 8, 1947 and settled in Buena where they raised their three daughters. She was an exceptional wife and mother, known for her cooking skills, family gatherings and entertaining.
In 1963 she became the Postmaster in Buena. During her time as postmaster she was responsible for instituting the rural routes in Buena, Minotola and Landisville. She retired after 25 years of service in 1988. She was a member of the National Association of Postmasters of the United States (NAPUS) and the National Association of Retired Federal Employees (NARFE).
Dora is survived by her daughters, Joyce Soboloski (Kenneth) of Vineland, and Joan Woodruff (Peter) of Voorhees; son-in-law, Dr. Mark Gelardo of Medford; grandson, Nicholas Gelardo of Philadelphia; honorary daughter, Doria Shilling of Medford; her step-granddaughters, Stephanie McDade, Sheryl Soboloski and Monica Negron; step-great grandchildren, Freddie Housel, Jordan Soboloski, and Victoria Negron. Dora was predeceased by her husband Nicholas in 1997; daughter Jean Gelardo in 2016; parents Angelo and Lucia and brother Elio.
A funeral home visitation will be held on Sunday evening from 6pm to 8pm at Rone Funeral Service, 1110 East Chestnut Avenue, Vineland, NJ. Entombment will be private at the convenience of the family in Holy Cross Cemetery, Mays Landing.
ARRANGEMENTS are under the supervision of Rone Funeral Service, 1110 East Chestnut Avenue, Vineland, NJ 08360
In lieu of flowers, donations may be made in Dora's memory to the Richland Fire Department, PO Box 656, 876 Main Avenue, Richland, NJ 08350.
To send online condolences please visit our website at www.RONEFUNERALSERVICE.com