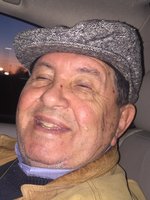 Ludovico Dragotta
Ludovico Dragotta, 82, of Vineland, passed away on October 28, 2019 at Inspira Medical Center in Vineland. He was born in Belmonte Mezzagno, Italy to the late Giovanni and Bernadette Dragotta. In March of 1970 he came to America where he started a glass company in Glassboro, NJ known as Bio Research Inc. Ludovico was a good soul who loved singing and eating Italian food.
He is survived by his sister, Girolima Dragotta; two nieces, Loredana Allen and Patricia Dragotta; his nephew, Maurizio Dragotta; and several great nieces and great nephews. Along with his parents he was predeceased by his brother and sister, Giovanni and Concetta.
A church visitation will be held on Thursday from 8:45am to 10:45am followed by a funeral mass at 11:00 am from Christ The Good Shepherd Parish - Church Of Saint Isidore The Farmer, 1655 Magnolia Road, Vineland. Interment will follow in Sacred Heart Cemetery, Vineland.
ARRANGEMENTS are under the supervision of Rone Funeral Service, 1110 East Chestnut Avenue, Vineland, NJ 08360
To send online condolences please visit our website at www.RONEFUNERALSERVICE.com