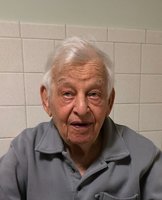 Helmut "Hal" Leeser
Helmut "Hal" Leeser 96, of Vineland New Jersey passed away on Friday August 30, 2019 at home, surrounded by his loving family. Born in Wanna Eikel, Germany to the late Dr. Julius and Elsie (Roettgen) Lesser before being sent at the age of 12 to the United States by his parents on a boat with other young children to escape what was to become Nazi Germany. He arrived in the U.S. by himself only able to speak German and a little bit of French. He was taken in by a family that lived in Washington D.C. where he lived in the basement of their home and was required to keep their coal burning stove filled with coal. He was enrolled in public school by that family and quickly learned to speak English. A few years later his mother, father and brother arrived in the U.S. and bought a 23 acre farm in Woodbine, Helmut and his brother raised chickens and started an egg delivery business. Eggs were delivered as far away as New York City on a regular route.
Helmut was a founding member of a Farmers Co-Op, which was a group of chicken farmers that banded together to purchase chicken feed in bulk and re-sell to smaller farmers at attractive prices. He met the love of his life Hilde Moses, who was attending secretarial school in N.Y. and they later married in the year 1949. He brought Hilde to Woodbine to help work on the farm where they raised 2 daughters. Helmut did all of the repairs on the farm and built a building to house a small retail electrical supply on the farms property that faced Bellplain Road. The Electrical Supply business seemed more lucrative, and In 1959 he moved the business to 4th and Landis Ave. in Vineland. For 2 years he commuted to Vineland, while Hilde tended to the farm. In 1961 he sold the farm and moved the family to Vineland.
The Leeser Electrical Supply business grew and in the late 70's the company moved to Chestnut Ave. Hal invented a patented system known as "The Power Off Alarm", that alerted farmers if power failed in distant chicken coops. In 1987 the electrical business was sold. Helmut started his next venture and joined Taylor Sawyer as a Realtor. Nothing was more important to him than his family. He became a full time care giver for Hilde when Parkinson disease was diagnosed. He enjoyed gardening, and volunteered at Beth Israel Synagogue to handle maintenance items. He loved spending time with his grand children and great grandchildren. Helmut is survived by his 2 daughters, Vivian Lindsay-McKeon and her husband Jim, of Vineland, Carol Fretz and husband Scott of Daytona Beach Florida, Grandsons, Tim Lindsay and wife Devonn, Mark Lindsay, Richard Fretz and wife Chayoung of Miami, Florida and Bryan Fretz of Orlando, Florida, great-grandchildren Sloane Lindsay, and Savannah Lindsay. Hal is predeceased by his wife of 64 years Hilde (Moses) Leeser, father and mother, Dr Julius and Elsie Leeser, and a brother Ralph Leeser. Shiva will be observed at the home of his daughter and son-in-law Vivian Lindsay-McKeon and James.
A funeral service will be held Thursday at 11:30 am from Rone Funeral Service, 1110 East Chestnut Avenue, Vineland where friends will be received after 10:30 am. Interment will follow in the Alliance Cemetery, Norma. ARRANGEMENTS are under the supervision of Rone Funeral Service, 1110 East Chestnut Avenue, Vineland, NJ 08360
Donations: if so desired may be made in Hals memory to: New Jersey American Parkinson Disease Association, 120 Albany Street, Suite 360, New Brunswick, NJ 0890, the American Heart Association, Memorials & Tributes, 1 Union Street, Suite 301, Robbinsville, NJ 08691, www.americanheart.org, or to the Beth Israel Congregation, 1015 East Park Avenue, Vineland, NJ 08360, attention of Secretary-Gini
To send online condolences please visit our website at www.RONEFUNERALSERVICE.com