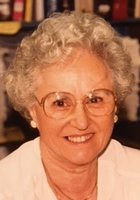 Florence W. Calovi
Florence Weber Calovi, 97, of Vineland, passed away on February 2, 2019 at Genesis Millville Center, after a long and full life. She was born in 1921 in Lafferty, Ohio. Her parents, Alberto and Celestina Weber, were immigrants from the Tyrol in northern Italy. The family moved to Brooklyn, New York when Florence was four years old. Her father died when she was just nine years old, leaving a widow with three young daughters. Florence, the eldest, graduated from Girls Commercial High School. She wanted to take the art curriculum but her mother insisted she take the more practical business courses. She worked for Sherry Gyroscope during WWII painting fluorescent dials for military planes. On Christmas Eve, 1944, she married Randy Calovi, a bomb site instructor in the Army Air Corps. They eventually moved from New York City to Vineland, New Jersey where she raised four daughters and turned her creative talents to sewing. She sewed drapes, slipcovers, and much of the family's clothing.
Once the girls were grown, she finally had the time to pursue her childhood dream - to become an artist. She enrolled in art classes at Vineland High School and began a creative journey that would span fifty years. She won numerous local and state prizes for her watercolors and had several one woman art shows at local establishments. One of her greatest joys was being one of "The Bay Gals", a group of artists who met once a week to paint and share their love of art. Florence was also a volunteer at the Vineland Public Library for 25 years, receiving Volunteer of the Year awards on numerous occasions
She is survived by her four daughters, Doris Forst (Jim), Janet Walsh (Kevin), Elaine Braidi (Chuck); and Karen Mayo (Bev Greco); thirteen grandchildren, Holly Gamber (Paul), Matthew DeBarger, Amanda Hall (Dan), Doug Walsh, Ted Walsh (Kay), Elizabeth Davis (Chad), Natalie LaTorre (Mike), Ricky Catrambone (Caroline), Carla Catrambone (Fiancé Chris Lesniak); Augustus Mayo (Amy Gilfillan), Alex Mayo, Randy Mayo and Nicholas Mayo: seven great-grandchildren, Nora Gamber, Sadie Gamber, Hunter Khutsishvili, Sage Hall, Henry Hall, Sarah Davis and Barney Davis; sisters, Olga Cariello and Mary Batistone and several nieces, nephews and cousins. Florence was predeceased by her husband, Adolph "Randy" Calovi and her parents, Alberto & Celestina (Bonnetti) Weber.
A church visitation will be held on Saturday from 8:45am to 10:45am followed by a funeral mass at 11:00 am from Christ The Good Shepherd Parish - Church Of Saint Isidore The Farmer, 1655 Magnolia Road, Vineland. Interment will follow in Sacred Heart Cemetery, Vineland.
ARRANGEMENTS are under the supervision of Rone Funeral Service, 1110 East Chestnut Avenue, Vineland, NJ 08360
At the families request in lieu of flowers that donations in memory of Florence be made to: Vineland Public Library, 1058 E Landis Avenue, Vineland, NJ 08360.
To send online condolences please visit our website at www.RONEFUNERALSERVICE.com