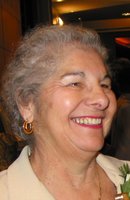 Nancy Barnabei
Nancy Mary (Yacovelli) Barnabei, 88, of Atco, NJ passed away on December 26, 2018. Nancy was born in Landisville, NJ to Adeline "Tillie" and Salvatore "Sam" Yacovelli on March 25, 1930. She went to Vineland High School and graduated in 1948. She was a homemaker while her children were growing up and then worked as a waitress, first at the diner at the Vineland Produce Auction and in Port St. Lucie, Florida, a job that she loved for the independence and pocket money. She enjoyed cooking, sewing and growing her beloved orchids.
For many years, she was actively involved with the Soroptomist Sorority, a social and charitable organization in Vineland, and with the Loyal Order of the Moose in Port St. Lucie, FL. Nancy received awards for her charitable work with these organizations, including Moose Woman of the Year. She was a member of Sacred Heart Catholic Church in Vineland and St. Lucie Catholic Church in Port St. Lucie.
She is survived by her husband of 66 years, Albert D. Barnabei; her children, daughter, Patricia Ricciardi; daughter, Vanessa Barnabei; daughter, Cynthia Papa; daughter & son-in-law, Andrea & Randy Bolhuis; son & daughter-in-law, Albert & Dawn Barnabei; daughter and son- in- law, Nancy Jean Barnabei & John Masciantonio; 11 grandchildren and 2 great-grandchildren. She was predeceased by her parents, Adeline & Salvatore Yacovelli and her brother, Pasquale "Pat" Yacovelli.
Funeral home visitations will be held on Sunday evening, December 30, 2018 from 6pm to 8pm and again on Monday morning from 9am to 10am followed by a funeral service at 10:00 am from Rone Funeral Service, 1110 East Chestnut Avenue, Vineland. Interment will follow in Sacred Heart Cemetery, Vineland.
ARRANGEMENTS are under the supervision of Rone Funeral Service, 1110 East Chestnut Avenue, Vineland, NJ 08360
Donations in memory of Nancy may be made to:
Alzheimer's Association - South Jersey Chapter, 3 Eves Dr. Suite 310, Marlton, NJ 08053
To send online condolences please visit our website at www.RONEFUNERALSERVICE.com