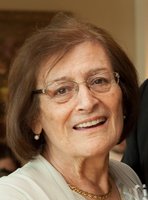 Nicoletta Barse
Nicoletta (Bianco) Barse, of Vineland, passed away peacefully on Tuesday, November 14, surrounded by family, two days after celebrating her 77th birthday with them. Her death followed an extended fight with Alzheimer's disease. Nicoletta was born in San Vito Chietino, Italy, on November 12, 1940. She was the sixth of seven children born to Ernesto and Assunta (DiMonte) Bianco. She was raised on the family farm where she lived until her engagement and marriage to Denis Barse, Sr of Vineland, NJ on September 1, 1962.
She raised five sons with Denis, living in various homes in Florida and New Jersey as well as in Abruzzo, Italy. In 1981, she began working for the Vineland Board of Education as a school bus driver, a job that she enjoyed and took pride in until her retirement in 2006.
Nicoletta enjoyed cooking and cherished spending time with her grandchildren. She took pleasure in entertaining family and friends at her home and hosted many parties over the years to celebrate family milestones. She had a great sense of humor and an adventurous spirit and always placed her family's needs above everything else.
She is survived by four sons, John Barse and his wife Lori and children Nicholas and Gabriella of Morgantown, PA, Francis Barse of Ardmore, PA, Denis Barse and his wife Krista and son Enrico of Moorestown, Michael Barse and his wife Erin and son Vincent of Vineland; sister Rev Mother Maria Laura Bianco of San Vito, Italy and brothers Pietro Bianco of San Vito Chietino, Italy and Giustino Bianco of Vineland. Nicoletta is predeceased by her husband Denis Barse, son Dane Barse of Ocean City; brothers Gennaro Bianco of Pescara, Italy, and Don Donato Bianco of Roccamorice, Italy, and her sister Rev Mother Iride Bianco of Rome, Italy.
A church visitation will be held on Saturday from 10am to 12pm followed by a funeral mass at 12pm from Christ The Good Shepherd Parish - Church Of Saint Isidore The Farmer, 1655 Magnolia Road, Vineland. Interment will follow in Sacred Heart Cemetery, Vineland.
ARRANGEMENTS are under the supervision of Rone Funeral Service, 1110 East Chestnut Avenue, Vineland, NJ 08360
To send online condolences please visit our website at www.RONEFUNERALSERVICE.com