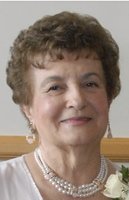 Celeste "Chet" Deon
Celeste "Chet" (Malatesta) Deon, 92, of Vineland, passed away peacefully on Wednesday, August 9, 2017. Chet was born in Vineland to the late Guerino and Sara (Daghini) Malatesta and resided in Vineland her entire life. She was a graduate of Sacred Heart High School, Class of 1942.
Prior to her retirement, Chet served as the Executive Director of the Cumberland County Chapter of the American Cancer Society. She was instrumental in the founding of both hospice care and breast cancer support in Cumberland County. She also was the owner of Deon's Liquor Store in Vineland. She was a member of Christ the Good Shepherd Parish, Sacred Heart Church, and a past treasurer of the Vineland Senior Action Club.
Chet was an avid pinochle and poker player. She enjoyed the casinos and often organized bus trips to Atlantic City. She liked dancing, traveling, golf, and tennis. Her greatest pleasure was her family, and she especially enjoyed spending time with her grandchildren and great-grandchildren, who treasured her.
Chet was predeceased by her husband, Anthony Deon and her longtime friend, Michael Lalama. She is survived by her son, Anthony Deon Jr. and wife Charlotte of Springfield, Vermont; her son David Deon and wife Debra of Upper Pittsgrove Township; her son, Steven Deon and Bing Santacruz, of Vineland. She is also survived by seven grandchildren, Sara Deon (Kao-Ping Chua) of Chicago, Illinois, Jane Deon and Malin Deon, both of Boston, Massachusetts, Danielle Beety (David) of Swedesboro, Desiree Werner (Tim) of Abingdon, Maryland, Steven Deon Jr. (Kristen Aditya) of Parsippany, and Anthony J. Deon (Amber Opromollo), of Marlton, and five great-grandchildren.
Funeral home visitations will be held on Sunday evening from 6pm to 8pm and again on Monday morning from 8:30am to 9:30am at Rone Funeral Service, 1110 East Chestnut Avenue, Vineland, NJ. A funeral mass will be held at 10am from Christ The Good Shepherd Parish - Church Of Sacred Heart, 1010 East Landis Avenue, Vineland. Interment will follow in Sacred Heart Cemetery, Vineland.
ARRANGEMENTS are under the supervision of Rone Funeral Service, 1110 East Chestnut Avenue, Vineland, NJ 08360
Donations in memory of Chet may be made to:
South Jersey Healthcare HospiceCare, 2828 S. Delsea Drive, Vineland, NJ 08360
To send online condolences please visit our website at www.RONEFUNERALSERVICE.com