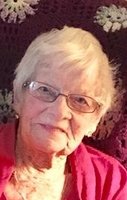 Auldice M Foster
Auldice M. "Willie" (Wilson) Foster, 96 of Mays Landing, passed away on Saturday April 14, after a brief illness. Prior to her death Auldice was a resident of Wood View Estates in Mays Landing. She was born in Allston Mass. on July 8, 1921 to the late Alexander W. and Mary T. (Jones) Wilson. After her marriage to Bob, she moved to New Jersey but treasured her New England roots. A Registered Nurse, Auldice earned her RN degree from Waltham Hospital in Mass. where she worked caring for the wounded when they returned from WW II. While raising her family she worked at various hospitals. She served as visiting nurse for Franklin Township, and School Nurse in the Weymouth Township School system. In May 1968 Auldice was awarded the "Women of the Year" title by the Elite Women's Club of Franklin Township. She earned this award for her 18 years of dedicated service to those in need. Auldice had a true love of nursing. In her spare time she loved to oil paint, read, and bake cookies, but her passion was gardening and walking through woods enjoying the beauty of nature.
Auldice leaves behind her sons Robert (Mary) of Mays Landing, Bradford (Joann) of Pittsgrove, niece Judy (Tim) Arceneaux of Huston Texas. She was Nana to and loved by 8 grandchildren and 17 great grandchildren, they were the joy of her life. She is predeceased by her husband Bob, daughter Elizabeth Ann, and son Stephen
A church visitation will be held on Wednesday April 18, from 9:30 to 10:45 am followed by a Funeral Mass at 11:00 am at Our Lady Of The Blessed Sacrament Parish - Church Of Saint Rose Of Lima, 104 Catawba Avenue, Newfield, NJ
Interment will follow in Sacred Heart Cemetery, Vineland.
ARRANGEMENTS are under the supervision of Rone Funeral Service, 1110 East Chestnut Avenue, Vineland, NJ 08360
Donations: if so desired may be made in memory of Auldice to;
Atlantic Care Hospice c/o Robert Foster 432 Highland Drive Mays Landing NJ 08330
To send online condolences please visit our website at www.RONEFUNERALSERVICE.com