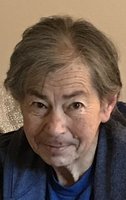 Joyce Scarpa
Joyce A. Scarpa (Yacovelli), 72
Retired registered nurse, Joyce Scarpa, passed away peacefully following a brief illness at Inspira Medical Center in Vineland, NJ on Thursday, April 5, 2018 surrounded by her family.
Joyce was an accomplished registered nurse, and her career included: Newcomb Hospital as the Pediatric Nurse Supervisor, Whitehall Robbins Factories as the facility's registered nurse, and Dr. Andrew Heller's office nurse at Surgical Associates in Vineland. Joyce enjoyed everything to do with horses, collecting dolls and Hallmark Christmas ornaments, reading, playing solitaire, and cooking for her family. Joyce is survived by her daughters, Christine A. Scarpa and Lauren Scarpa; brother, Louis Yacovelli; sister-in-law, Barbara Yacovelli; nieces, Megan Koering (Yacovelli) and husband Jeremy, and Amanda Yacovelli all of Vineland; cousin Robert Richardson and his wife Mary Ann of Marlton. She was preceded in death by former husband, Frank J. Scarpa; parents Joseph and Adella (Amadei) Yacovelli.
A funeral home visitation will be held on Wednesday from 12:30 to 1:30 pm at Rone Funeral Service, Vineland, where services will begin at 1:30 pm. All are welcome to attend and celebrate Joyce's life. Interment will follow in Sacred Heart Cemetery Vineland. Donations if so desired may be made to the Alzheimer Association-South Jersey Chapter, 3 Eves Dr. Suite 310 Marlton, NJ 08053 www.alz.org in memory of her late mother. Or to the Charity of one's choice.
ARRANGEMENTS are under the supervision of Rone Funeral Service, 1110 East Chestnut Avenue, Vineland, NJ 08360
To send online condolences please visit our website at www.RONEFUNERALSERVICE.com