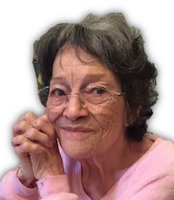 Jeanette Debbi
Jeanette Anne (Bisacquino) Debbi, 87, passed away peacefully on April 2, 2018. She was born in April 1930 to Charles and Josephine (Appalucci), who learned quickly that their daughter was a strong, determined individual with a tenacious spirit. As an infant she contracted polio and wasn't expected to live. Instead, Jeanette fought to make a full recovery and she went on to live a long, full life.
Jeanette grew up in Landisville, NJ. She attended Vineland High School (Class of 1949). There she excelled at academics and was selected as a member of the National Honor Society. After graduation, Jeanette went to work as a secretary for an insurance agency in Vineland, NJ.
In 1953 she gave up her secretarial career and accepted the position of wife and mother when she married her high school sweetheart, Harold Debbi. She held this position for 64 years. Her accomplishments including raising two children, maintaining a beautiful home, cooking delicious meals, and supporting her husband's career ambitions.
Jeanette was also a very creative person. Her artistic pursuits included water color painting, jewelry making, and photography. She also loved and collected cookbooks, teddy bears, snowmen, and art supplies. Jeanette definitely believed a person could never have enough art supplies.
Jeanette's final life challenge was Alzheimer's disease, which she fought valiantly until the very end. To all those who provided loving care for her during the last year of her life, the family offers its deepest gratitude.
Jeanette is survived by her husband, Harold Debbi; her daughter, Monica Debbi and her partner, Gustavo Mejia-Rivera of Harrisburg, NC. and her brother Peter Bisacquino of Millville, NJ. Jeanette was preceded in death by her parents, her brother Charles Bisacquino, and her son Harold Scott Debbi.
A funeral home Visitation will be held on Tuesday from 10am to 11am followed by a funeral service at 11am from Rone Funeral Service, 1110 East Chestnut Avenue, Vineland. Interment will follow in St Mary's Cemetery, Vineland.
ARRANGEMENTS are under the supervision of Rone Funeral Service, 1110 East Chestnut Avenue, Vineland, NJ 08360
To send online condolences please visit our website at www.RONEFUNERALSERVICE.com