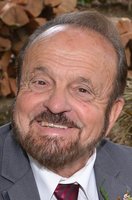 Joseph Zanni
Joseph Evo Zanni , 77, of Buena, NJ, passed away peacefully in his life-long home, surrounded by his beloved family. The angels brought him to Heaven the morning of Saturday, March 10th. He was preceded in death by his parents Oliva & Anthony Zanni, brother Anthony Zanni, and granddaughter Katelyn Schaffer. Joe is survived by the love of his life, wife of 56 years Iva (Rauschert) Zanni, and their 4 children, grandchildren and great-grandchild: Dale and Lenny Coco, Albert, Ayse, Albert Jr, Anthony, Amanda; Joseph Zanni, Joseph Jr, Brandon; Gale and Bob Caulford, Rob, Olivia, Daulton, Georgie, Ryleigh, Bobby, Brian; Terry and John Schaffer, Christopher, Derek, Miranda, Layla. He is also survived by his sister Emma Corson, as well as numerous extended family members.
Joseph was a resident of Buena Vista Township where he attended Vineland High School. Joe and Iva met at the age of 15. They fell in love, were married in July of 1961, and built a beautiful life together. Joe was appointed as assistant chief of the East Vineland fire department. He was employed as a diesel mechanic for John Deere, as well as head of maintenance at IGI Enterprise. He also did carpentry and construction. Joe was an avid deer hunter, often taking family hunting trips to Maine and New York, and was a life-long member of the 5-Point Horn Hunters hunting club. He enjoyed fishing and crabbing, was a passionate farmer on his home farmland, and loved trips to the beach with his wife and close friends. His family adored him; he was the center of their lives as he loved them unconditionally. He was so full of life, and had the best sense of humor. He gave true friendship to everyone he met and touched so many lives. Overall, Joseph Zanni lived an incredible life. He will be missed dearly, and his time on earth will be remembered and cherished forever
A funeral home visitation will be held on Wednesday evening, March 14 at Rone Funeral Service from 6-8pm.and again on Thursday morning from 9:15am to 10:15am. followed by mass at 11am.at Our Lady of Pompeii Church. We will then proceed to Our Lady of Victories cemetery in Landisville. A light lunch and fellowship at the St Padre Pio hall will follow the internment.
Per the family's request, in lieu of flowers, memorial donations may be made to the East Vineland Fire Company in Joe's name. P.O. Box 36, Buena, NJ,
ARRANGEMENTS are under the supervision of Rone Funeral Service, 1110 East Chestnut Avenue, Vineland, NJ 08360
To send online condolences please visit our website at www.RONEFUNERALSERVICE.com