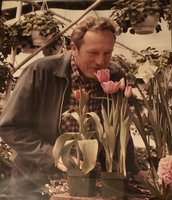 Cornelius "Neil" Joseph "Neil" Sikking
Cornelius "Neil" Joseph Sikking, 83, of Vineland, NJ, entered into eternal peace on March 10, 2018 at home surrounded by his loving wife and family. His devotion to his family and his firm belief in God supported him in his struggle and throughout his life.
Neil was born in Vineland, NJ to the late Cornelius & Helen (Schneider) Sikking on January 25, 1935. Neil, along with his wife, built and operated a wholesale flower farm for over 50 years. He was a member of the New Jersey National Guard. He also volunteered at the Minotola Fire Company and Minotola Rescue Squad. He was active in his church as a Eucharistic and Hospitality Minister.
Neil is survived by his wife of 61 years, Marie (Marandino) Sikking, daughter and son-in-law Sandra & Bob Lamcken, daughter and son-in-law Diana & Joe Kurtz, daughter Karan Melini & John Petrillo, 4 grandchildren Stephanie & Joe Tucciarone, Gino & Candace Pagano, Courtney Bullock, and Jimmy & Kelly Melini, 2 great grandchildren CJ & Aiden, brother and sister in law Jack & Kay Sikking, many close in-laws, nieces, nephews and cousins.
Along with his parents, he is preceded by his son Robert, sisters Ann Lawrence and Rose Newcomb.
A church visitation will be held on Friday, March 16, 2018 from 8:45 to 10:45am, followed by a funeral mass at 11:00 am at Our Lady of the Blessed Sacrament Parish - St Michaels Church, 504 South West Ave, Minotola. Burial will follow at Our Lady of Victories Cemetery, Landisville.
Arrangements are under the supervision of Rone Funeral Service 1110 E. Chestnut Ave. Vineland, NJ 08360
Memorial donations may be made to the Alzheimer's Association (225 N. Michigan Ave. Fl. 17 Chicago IL. 60601), Autism Speaks (216 N. Haddon Ave. #403 Westmont, NJ 08108), and/or Our Lady of the Blessed Sacrament Parish, Church of St Michael,104 Catawba Avenue, Newfield, N. J. 08344
To send online condolences please visit our website at www.RONEFUNERALSERVICE.com