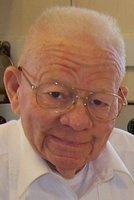 Fred Pittman Sr
Fred Pittman, Sr., 84, of Rocky Mount, North Carolina passed away on March 2, 2018, in Vineland after a brief illness. Fred was born in Rocky Mount, North Carolina to Howard & Martha Pittman on March 18, 1933. He graduated from Booker T. Washington High School in 1952. He married Vivian Graves of Glassboro, NJ on April 28, 1958, and together they raised twelve children. Fred Pittman, Sr. valued God, family and education. He earned multiple degrees/certificates in: Radio-Television Technology from The Television Training Institute, a Master Plumber's Certificate, Child Center License, Food Service/Food Handler's License, a Certification in Teacher of Skilled Trades (Climate Control), Black Seal Engineering License and a Blue Seal Engineering License. He worked as a boiler room controller at the Campbell Soup Company in Camden, NJ, and held a position as a Certified Climate Control Instructor at the Atlantic County Vocational Technical School. Fred was ordained as a Mennonite Minister on November 17, 1978, and pastored the Mizpah Community Mennonite Church for 20 years that followed. Fred Sr. was self-sufficient and also made a living through the following independent/family owned businesses: Pittman's Engineering, Pittman's Pit BBQ in Franklinville, NJ, various real estate ventures, Mizpah Community Child Care Center, Pittman's Plumbing, Heating & Cooling, Deaf Ministries and Doyles Corner BBQ Restaurant in Philadelphia. He enjoyed singing with his family and lighting up his self-designed BBQ pits where he was known for smoking his authentic North Carolina BBQ chicken and ribs!
Fred is survived by his wife of 59 years, Vivian Pittman and his children: Fred Pittman, Jr., Sharon Coursey, Centenna Caldwell, Howard Pittman, III, Jeanette Winters, Marsha Mack, Theo Graves, LaTasha Pittman, Tanya Harper, Larry Graves & Shontae Johnson. He leaves to mourn his sister, Mary Pittman-King. He is preceded in death by his parents: Howard & Martha Pittman; siblings, Mamie Blackmon, Martha Thomas, Walter Pittman, James Pittman & Willie Pittman and his son Bertram Churchill. Fred also leaves behind twenty-one grandchildren, three great-grandchildren, and a host of nieces, nephews, family members and friends.
A funeral home visitation will be held on Saturday from 1:30pm to 2:30pm followed by a funeral service at 2:30pm from Rone Funeral Service, 1110 East Chestnut Avenue, Vineland, conducted by Elder Kelly Johnson from Healthy Choice Ministries in Vineland. Burial will be private.
ARRANGEMENTS are under the supervision of Rone Funeral Service, 1110 East Chestnut Avenue, Vineland, NJ 08360
Donations in memory of Fred may be made to:
Healthy Choice Ministries 1386 Carmel Avenue, Vineland, NJ 08360
To send online condolences please visit our website at www.RONEFUNERALSERVICE.com