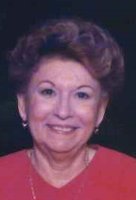 Gloria Sabater
Gloria Ramirez Sabater passed away on February 26, 2018 in Bloomfield, NJ. Gloria was born in1924 and raised in Mayaguez, Puerto Rico, the younger of two daughters of the late Maria Collazo de Ramirez and Manuel Ramirez. Gloria moved to Philadelphia, Pennsylvania in 1944 after marrying Luis Sabater. The couple had three daughters, Millicent, Gloria Marie, and Francesca. Eventually the family moved to Vineland, New Jersey while their home was built in nearby Willow Grove, where the family ultimately settled.
Gloria worked in Vineland and was a very active member of the community. She worked at the Vineland Poultry Labs as a bilingual secretary; she taught Spanish at St. Francis of Assisi School and English as a second language at Maurice Fels School; she was a Social Worker for the Daughters of Charity, DePaul Center, Vineland; she worked as a bilingual translator for the Vineland Municipal Court.
Gloria served on the Newcomb Hospital Board of Trustees and on the Board of Directors for the Tiny Tim Fund, and she was a member of the Juvenile Conference Committee, the Red Cross, the Vineland Recreational Committee, the League of Women Voters, and the Girl Scouts of America. In 2003, Gloria's outstanding community service was recognized by the Cumberland County Bar Association, which honored her with the Liberty Bell Award.
Gloria is predeceased by her husband of 49 years, Luis; her daughter, Gloria; and her sister, Ana Maria Ramirez. She is survived by her beloved daughters Millicent Sabater Ansley (Hudson) and Francesca Sabater Torcomian (Thomas); her cherished grandchildren, Stefanie Koseff (Manuel Sander), Zachary Koseff, Evan Miller (Dorothy Kenney), Sara Miller, Toros Torcomian (Anita), Christopher Torcomian, and Ana Torcomian; and her precious great grandchildren Desmond Koseff Sander, Lucien Koseff Sander, Aren Torcomian, Olivia Torcomian, and Eva Torcomian.
Gloria was known to her grandchildren and great grandchildren as "Abue." She was dearly loved and will be greatly missed.
A church Visitation will be held on Saturday, March 10, 2018 from 10am to 11am followed by a funeral mass at 11am from Divine Mercy Parish, 23 West Chestnut Avenue, Vineland. Inurnment will take place in Willow Grove Methodist Church Cemetery at a later date.,
Donations in memory of Gloria may be made to: Living Beyond Breast Cancer
40 Monument Road, Suite 104, Bala Cynwyd, PA 19004 (www.lbbc.org)
ARRANGEMENTS are under the supervision of Rone Funeral Service, 1110 East Chestnut Avenue, Vineland, NJ 08360
To send online condolences please visit our website at www.RONEFUNERALSERVICE.com