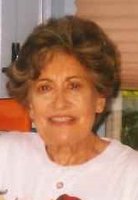 Carmella Casella
Carmella O. (Serra) Casella, 95, beloved mother, sister, grandmother and great grandmother, passed away quietly at home on Friday morning, February 9, 2018. She lived many years in Haddonfield, NJ before moving back to Vineland after the death of her husband James Casella.
Carmella attended Vineland schools, graduating Vineland High School in 1940. She worked several years as an operator for New Jersey Bell Telephone. On September 28, 1946 she married James Casella. They were married for 50 years until his death in 1996. Carmella was a good homemaker who loved to cook and bake. She enjoyed movies, the theater, gardening, traveling and being surrounded by he family including grandchildren and great grandchildren. She also worked for many years as an election day poll worker for the Board of Elections first in Camden County and later in Cumberland County.
She is survived by her two sons, Ronald Casella (Linda) and Robert Casella (Pamela); daughter, Denise Ibbotson (Robert); her two brothers Solve Serra and Joseph Serra and her two sisters, Mary Landi and Ellen Serra She was a grandmother to Moriah Reinert (Brad), Thomas Casella, Danielle Rees (her partner Ariel Echeviaria), Jessica Smith (Erick), Rebecca McGavr (Cory) and Daniel Casella (Ileana); She will also be greatly missed by her ten great-grandchildren. She was predeceased by her husband, James V. Casella; her parents, Thomas and Felicia Serra; brothers, Rocco Serra, John Serra and Thomas "Tony" Serra and her sister, Rose Giovinazzi.
A church visitation will be held on Thursday from 9am to 11am followed by a funeral mass at 11am from Christ The Good Shepherd Parish - Church Of Sacred Heart, 1010 East Landis Avenue, Vineland. Interment will follow in Sacred Heart Cemetery, Vineland.
ARRANGEMENTS are under the supervision of Rone Funeral Service, 1110 East Chestnut Avenue, Vineland, NJ 08360
At the family's request in lieu of flowers that donations in memory of Carmella may be made to:
Gateway Community Action Partnership, Alzheimer's/Seniors Day Care Program, 110 Cohansey Street, Bridgeton, NJ 08302
To send online condolences please visit our website at www.RONEFUNERALSERVICE.com