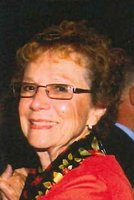 Janet Lee Guidarini
With her heart full of love from family and friends who prayed, visited and sent well wishes, Janet Lee Guidarini, 82, died peacefully on February 8, 2018 after a brief battle with cancer. Janet was born in Vineland, New Jersey on August 17, 1935. She attended Vineland High School, graduating in 1953 and was employed by the Vineland Board of Education Food Service until retiring in 2002. She was a member of Christ the Good Shepherd Parish (St. Isidore the Farmer Church).
Janet is survived by a son, James L. Guidarini (Ann) of Newport, Kentucky and their children Eva and Charlie; daughter, Danielle M. Kromer of Galloway, New Jersey and her children, Scarlett and Zachary. She is also survived by a brother and sister-in-law, Paul and Toni Bagliani of Vineland: sister-in-law, Enes Parassio, of Haddonfield, New Jersey, and many nieces, nephews and cousins. She was predeceased by her husband, Jimmie, and her parents, Joseph and Lena (Rapetti) Bagliani.
Janet was devoted to those lucky enough to be a part of her life. She was always willing to lend a helping hand and cared for family and friends with grace and generosity. She will be greatly missed by everyone who enjoyed her conversation, cooking, hospitality and care. A church visitation will be held on Thursday from 11am to 12pm followed by a funeral mass at 12pm from Christ The Good Shepherd Parish - Church Of Saint Isidore The Farmer, 1655 Magnolia Road, Vineland. Interment will follow in Sacred Heart Cemetery, Vineland.
ARRANGEMENTS are under the supervision of Rone Funeral Service, 1110 East Chestnut Avenue, Vineland, NJ 08360
Donations in memory of Janet may be made to:
American Cancer Society (Cumberland County), 1851 Old Cuthbert Road, Cherry Hill, NJ 08034
Charity of One's Choice
To send online condolences please visit our website at www.RONEFUNERALSERVICE.com