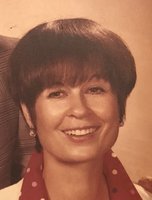 Caterina M. Puesi
Caterina Marie (LaBarbera) Puesi, 80, of Rosenhayn, passed away at home on Thursday, February 1, 2018 surrounded by her loved ones. Born in Calamanaci, Sicily on August 5, 1937, she was the daughter of late Isidore & Josephine La Barbera. Before retiring, Caterina worked at the NJ Veterans Memorial Home in Vineland for 25 years. She was a parishioner of St. Mary's Church in Rosenhayn. She loved cooking, baking and spending time with her family.
She is survived by husband of 59 years, Gaspare Puesi; son, John James Puesi; granddaughters, Dina Puesi & Deanna Puesi all of Rosenhayn; John Barbagello, Gloria Puesi;, Josephine Contendo, Rosalie & Lewis Carini and several nieces & nephews
A funeral home visitation will be held on Friday from 9am to 11am followed by a funeral service at 11am from Rone Funeral Service, 1110 East Chestnut Avenue, Vineland. Interment will follow in St Mary's Cemetery, Rosenhayn, NJ.
ARRANGEMENTS are under the supervision of Rone Funeral Service, 1110 East Chestnut Avenue, Vineland, NJ 08360
Donations in memory of Caterina may be made to:
Alzheimer's Association - South Jersey Chapter, 3 Eves Dr. Suite 310, Marlton, NJ 08053
To send online condolences please visit our website at www.RONEFUNERALSERVICE.com