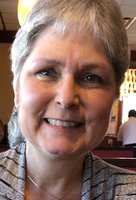 Kimberly Anne Hawn
Kimberly Anne (Madden) Hawn, 55, of Millville, passed away peacefully surrounded by her family on January 30, 2018. Born on December 30, 1962, Kim was raised by her parents MaryAnne (Cheli) and Duane Madden, along with her brothers Timothy and Kevin Madden. She was a graduate of Millville Senior High School, Class of 1981. Kim married her husband of 30 years, Richard Hawn, in 1987. Their marriage was blessed with a daughter, Meghan Hawn in 1993. Kimberly was employed in the corporate offices of Wawa as a fraud investigator for 25 years, until her retirement in 2013. Kim kept herself busy by quilting, planting and tending to her flowers and spending time at her family's lake house in Kilmarnock, VA. Kim loved spending time with her family, "MAB" girlfriends, as well as her dog and cat, Abby and Casper. Kim had the uncanny ability to leave a positive mark on everyone's lives with her beautiful spirit.
She is survived by her husband, Richard Hawn; daughter, Meghan Hawn; parents, Duane Madden & MaryAnne Cheli; brother, Kevin Madden and many nieces, nephews & cousins. Kim was predeceased by her brother, Timothy Madden. Kim will be remembered as a true angel on earth.
A funeral home visitation will be held on Saturday from 9am to 12pm followed by a funeral service at 12pm from Rone Funeral Service, 1110 East Chestnut Avenue, Vineland. Final disposition will be private.
ARRANGEMENTS are under the supervision of Rone Funeral Service, 1110 East Chestnut Avenue, Vineland, NJ 08360
In lieu of flowers, please make a charitable donation to:
Colorectal Cancer Alliance, 1025 Vermont Avenue NW, Suite 1066, Washington, DC 20005
To send online condolences please visit our website at www.RONEFUNERALSERVICE.com