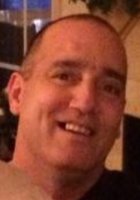 Robert Guzzi
Robert Guzzi, 58, of Vineland, earned his angel wings on Monday, December 4, 2017 after a long courageous battle with cancer. Though it broke our hearts to lose him we are at peace knowing that he is reunited with his oldest sister Jo-Ann and his dad Bruno Robert. Robert was an avid old car enthusiast and antique collector. His pride and joy was a 51 Chevy Sedan Delivery. Part of his antique collection was an array of collectible Schwinn bicycles.
Robert is survived by his loving mother Jennie (Polisano) Guzzi of Vineland; sisters Barbara and Peter Capizola of Vineland, Gina Guzzi of Vineland, and Holly and Peter Burdick of Malta, NY; brothers Tom and Diane Guzzi of Vineland and Michael Guzzi Sr. of Key West, Florida; nieces, Jennifer and Jason Jakubek of Vineland, Dareth and Hyuahda Roache Sr. of San Antonio, Texas, Giavanna Burdick of Malta, NY; nephews, Tommy Guzzi Jr. of Vineland; Michael Guzzi Jr. of Vineland, and Peter Burdick Jr. of Malta, NY; great nephews, Darius Guzzi of Vineland, Hyuahda Roache Jr. of San Antonio, TX, Julius Jakubek of Vineland. Robert was also survived by great nieces, Tatyana Roache of San Antonio, Texas, Gia and Layla Guzzi of Cape May Court House, NJ.
Special thanks to his nurse Roberta and his home health care aide Lissette whom he loved dearly.
As part of Robert's final wishes, funeral arrangements will be private.
The Guzzi family would like to thank everyone for their kindness bestowed upon us during this difficult time. We are truly blessed.
In lieu of flowers donations in Robert's memory can be made to Bayada Home Health at 603 N. Broad Street Suite 301, Woodbury, NJ 08096
ARRANGEMENTS are under the supervision of Rone Funeral Service, 1110 East Chestnut Avenue, Vineland, NJ 08360
To send online condolences please visit our website at www.RONEFUNERALSERVICE.com