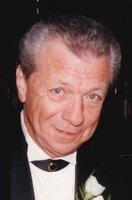 Robert G. Anconetani
Robert "Bob" Anconetani, 77, of Vineland, passed away on December 2, 2017 at Inspira Medical Center surrounded by his loving family. Bob graduated from Vineland High School Class of 1958. He went on to graduate from The University of Southern Mississippi in 1962. Bob worked for Cumberland County Social Services for 40 years. He was also a part-time bartender at the Centerton Country Club for several years and Kix in Sea Isle City. He was a member of the Hickory Gun Club and the Italian-American Club. He was a diehard Eagles Fan. Bob had a genuinely infectious personality and will be dearly missed by his family and many friends. The family is very grateful for Mary Carney who was his caregiver and dear special friend.
He is survived by his son & daughter-in-law, Jeffrey & Linda Anconetani; daughter & son-in-law, Jodi & Dr. Frank DiOrio; sister Paula Spoltore; his companion, Frani Fanucci; four grandchildren, Della & Casey Anconetani and Lia & Jenna D'Orio; niece, Julyett Spoltore; nephew & his wife, John & Lisa Spoltore; great-nephew, Grant Spoltore; great-nieces, Taylor & Jahnae Spoltore; cherished cousin, Barbara DeRuchie and many other close cousins, nephews & nieces. He was predeceased by his parents, Aldo and Louise Anconetani; brother-in-law, John Spoltore; cousins, Ron DeRuchie, Frank Ragone and other Ragone family members.
A funeral home visitation will be held on Wednesday from 9am to 11am followed by a funeral service at 11am from Rone Funeral Service, 1110 East Chestnut Avenue, Vineland. Entombment will follow in Sacred Heart Cemetery, Vineland.
ARRANGEMENTS are under the supervision of Rone Funeral Service, 1110 East Chestnut Avenue, Vineland, NJ 08360
Donations in memory of Bob may be made to:
American Heart Association, Memorials & Tributes, 1 Union Street, Suite 301, Robbinsville, NJ 08691
Inspira Health Network Foundation C/S, 2950 College Drive, Suite 1-F, Vineland, NJ 08360
Cumberland County SPCA, 1244 N. Delsea Drive, Vineland, NJ 08360
To send online condolences please visit our website at www.RONEFUNERALSERVICE.com