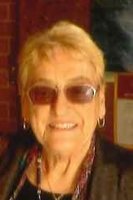 Minnie Gilliam
Minnie (Vassallo) Gilliam, 85, of Buena, passed away at home on November 30, 2017. She was born in Landisville to the late Dominick and Angelina (Pontarelli) Vassallo. Minnie had a strong faith in God, Jesus, the Holy Spirit and the Blessed Mother. She worked at the Hoover Clothing Factory in Minotola for many years and later with Atlantic County Community College where she worked as an office supervisor. Minnie loved cooking, traveling and spending many holidays and celebrations with her family. She loved animals especially her dog, Pele. Minnie served as a Eucharistic Minister at St. Isidore Church, St. Padre Pio Church and Newcomb Hospital. She also volunteered at the St. Padre Pio Shrine in Landisville.
She is survived by her husband of 39 years, Richard Gilliam; three brothers, Dominick, Raymond Sr. & George Vassallo; her sister, Eleanor Piedmonte; and many nieces, nephews, great nieces, great nephews, cousins, friends and coworkers. She also leaves behind members of the Vassallo, Pontarelli, Gilliam & Dondero families. Minnie was predeceased by her brothers, Carmen & Nicholas Vassallo; sisters-in-law, Rose Vassallo & Gloria Vassallo; and her brother-in-law, Joseph Piedmonte.
A church visitation will be held on Monday from 9am to 10am followed by a funeral mass at 10am from Saint Padre Pio Parish - Church Of Our Lady Of Pompeii, 4680 Dante Avenue, Vineland. Burial will be private.
ARRANGEMENTS are under the supervision of Rone Funeral Service, 1110 East Chestnut Avenue, Vineland, NJ 08360
Donations in memory of Minnie may be made to: Charity of One's Choice
To send online condolences please visit our website at www.RONEFUNERALSERVICE.com