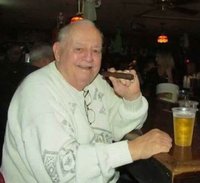 Richard "Babe" Cantoni
Richard "Babe" Cantoni, passed away on November 13, 2017 after an extended illness. As the youngest of five children, Babe was a resident of Landisville for many years. He owned and operated Babes Village Inn with his wife for 35 years, serving the community that they loved dearly. He was well known for his fun loving personality, joking nature and funny stories. Babe loved card games, he was an avid outdoorsman who loved fishing and hunting, seeing the country in his RV and smoking a good Cigar. He had a love for sports, especially football, baseball and basketball. He proudly served as President of the Recreation club for years. He was an honorable member of the United States Army where he served in World War II and served a second term in Korea. There were many things in life that he was proud of, but his biggest success was the love he had for his family and the love they had for him. His memory and good times will be remembered by many.
Babe is survived by his wife of 45 years Rose; stepsons John Herbert, David Herbert and Lester Kramer; five granddaughters Rebecca Cantoni Ferrigno and husband Anthony, Robyn Cantoni Lopez and husband Luis, Tara Cantoni Martinez and husband Carlos and Lacie and Rachel Herbert; daughter-in-law Ann Cantoni and five great-granddaughters. Babe is also survived by many nieces, nephews and cousins. He was predeceased by his father Charles and his mother Anna (Lera); his sons Terry and Gary; four brothers Harold, Bob, Lawrence and Eddie Cantoni and his granddaughter Paige Herbert.
A funeral home visitation and service will be held on Friday evening from 6pm to 8pm at Rone Funeral Service, 1110 East Chestnut Avenue, Vineland, NJ
Burial will be private.
ARRANGEMENTS are under the supervision of Rone Funeral Service, 1110 East Chestnut Avenue, Vineland, NJ 08360
To send online condolences please visit our website at www.RONEFUNERALSERVICE.com