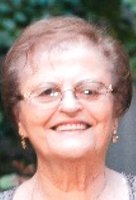 Dora Peraine
Dora (Pagnani) Peraine, 86, of Vineland, passed away on May 2, 2017 at home surrounded by her family. She was born in Perugia, Italy to the late Giacomo & Anna Maria Pagnani. She came to America in 1951. Dora met and later married her beloved husband Armand in 1953, settling in Vineland and raising their family. She was a wonderful homemaker who took pride in her loving home that she made for Armand and their kids. Dora was well known for her cooking talents, making spectacular meals especially for the holidays and family gatherings. She was a longtime member of the North Vineland Fire Department Ladies Auxiliary. She enjoyed gardening, but her greatest joy came from caring for her family.
She is survived by her daughter & son-in-law, Josie & Maurice Castellini; son , Anthony Peraine; daughter, Jean Peraine and daughter & son-in-law, Joanne & Paul Ordille; grandchildren, Michele Browne (Matthew), Dina Castellini (Doug), Anthony Castellini (Gina), Matthew Clark, Amanda Clark, Andrew Ordille, Luke Ordille & Rocco Ordille; great grandchildren, Joshua Browne, Carlina Castellini, Dylan Cavagnaro, Alana Castellini & Bianca Castellini; twin sister, Bianca Morotti and many nieces and nephews. Dora was predeceased by her husband, Armand Peraine; parents, Giacomo & Anna Maria Pagnani and her sister, Dina Nizi.
A church visitation will be held on Monday from 9:15am to 11:15am followed by a funeral mass at 11:30 am from Our Lady Of The Blessed Sacrament - Church Of Saint Rose Of Lima, 104 Catawba Avenue, Newfield. Interment will follow in Sacred Heart Cemetery, Vineland.
ARRANGEMENTS are under the supervision of Rone Funeral Service, 1110 East Chestnut Avenue, Vineland, NJ 08360
Donations in memory of Dora may be made to:
National Kidney Foundation, 30 East 33rd Street, New York, NY 10016
Our Lady Of The Blessed Sacrament - 104 Catawba Avenue, Newfield, NJ 08344
To send online condolences please visit our website at www.RONEFUNERALSERVICE.com