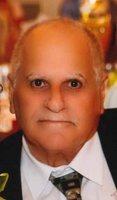 Leo "Curly" Palmonari
Leo "Curly" Palmonari, 76, of Vineland, passed away on April 30, 2017 at Inspira Medical Center. Born in Buena to the late Leo and Evelyn (Bloomingdale) Palmonari, he remained a longtime area resident. Leo enjoyed classic cars, especially his 50 Ford Coupe, which he referred to as "Cujo". He worked on the family farm for many years and also for the Chrysler Corporation as a relief lineman before retiring. He was a hard worker, a good man and lived by the straight and narrow. He along with his brother Alan made daily trips to Wawa for their morning coffee. Leo had a great love for western movies, his Saturday visits with the family and especially the new family pet "Lola", that he preferred to call "Eddie" and also his cat Mickey. Leo was a parishioner of St. Rose of Lima Church.
He is survived by his wife of 33 years, Josephine (Celletti) Palmonari; son & daughter-in-law, Leo & Stacey Palmonari; son, Jeffrey Palmonari; daughters, Sherry Palmonari and Josephine Moon; 10 grandchildren, Shaun, Pete, Dominic, Sarah, Stephanie, Ashly, Krystal, Michael, James & Joseph; 4 great-grandchildren, Ryan James, Summer, Landon & Bella and his brother, Alan Palmonari. Leo was predeceased by his son, Peter; parents, Leo & Evelyn Palmonari; sisters, Joann Atencio & Leota Monteleone and his brother, John Palmonari.
A funeral home visitation will be held on Friday from 9am to 11am followed by a funeral service at 11am from Rone Funeral Service, 1110 East Chestnut Avenue, Vineland. Interment will follow in Sacred Heart Cemetery, Vineland.
ARRANGEMENTS are under the supervision of Rone Funeral Service, 1110 East Chestnut Avenue, Vineland, NJ 08360
To send online condolences please visit our website at www.RONEFUNERALSERVICE.com