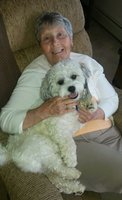 Valerie L. Scavelli
Valerie L. Scavelli, 84, on April 21, 2017 passed away peacefully in her sleep at home with her beloved dog Maxwell at her side. She was born on April 4, 1933, in London England, and was a long time area resident. Valerie worked at the Vineland Developmental Center as a head supervisor, retiring after 25 years. She then decided to pursue a career in the nursing field and graduated in 1995 with her LPN license. She loved traveling and spending time with her family, often going to lunch, she spent many fun summers in Sea Isle with her grandchildren. Valerie's hobbies included; gardening, shopping at BJ's and Boscov's, and especially yard sales and thrift stores. She also loved her tea time in the afternoons. Valerie is survived by her 3 daughters; Deidre (Blome) & husband Richard Levari Sr., Valerie (Blome) & husband Rick Brunetta, Bernadine Scavelli & John Herbert, and her son Daniel J. Scavelli: 7 Grandchildren; David Barry, Richard Levari Jr, & wife Pamela, Samantha (Levari) & husband Shawn Huber, Matthew Levari & wife "Georgie" Georgeanna, Rebecca (Levari) & husband Richard Giovinazzi, Danielle (Daniellio) Scavelli & Edwin Medina, Rachel Herbert & Austin Krautwald. 12 great-grandchildren; Preston & Nathan Levari, Hailey Huber, Lanie Giovinazzi, Kensie Giovinazzi, Brooke Barry, Jenicca, Layla, Julius, Kaden and Olivia Medina, Aliyah Scavelli. She is also survived by her dearest friends; Sandy Jakubek, Patricia Scavelli, Rose and Ernie Brown, also many nieces and nephews. Valerie was predeceased by her 2 sons; Keith & James Blome, and granddaughter Christina Scavelli.
A funeral home visitation will be held on Thursday, April 27, 2017 from 9 to 11 am at Rone Funeral Service, 1110 East Chestnut Avenue, Vineland, NJ, followed by a funeral service
at 11:00 am. Interment will be in Siloam Cemetery, Vineland.
ARRANGEMENTS are under the supervision of Rone Funeral Service, 1110 East Chestnut Avenue, Vineland, NJ 08360
Donations in memory of Valerie may be made to:
1. St. Jude Children's Research Hospital, 501 Saint Jude Place, Memphis, TN 38105 2. Ronald McDonald House of SNJ, 550 Mickle Blvd. Camden, NJ 08103 3. Cumberland County SPCA & Animal Shelter, 1244 North. Delsea Drive, Vineland, NJ 08360
To send online condolences please visit our website at www.RONEFUNERALSERVICE.com