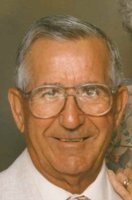 Enrico W. "Harry" Capra
Enrico W. "Harry" Capra, 92, passed away on March 22, 2017. Harry was a former resident of Vineland, NJ. He and his wife resided in Cape Coral, FL for 34 years and most recently from Ft. Myers, FL. Harry was married to his beloved wife, Zena for 66 years before she passed away in 2013. Harry worked for George Rossi Fuel Co. in Vineland. While living in Florida, he worked for a licensed electrician as an apprentice before working his way to foreman before retiring.
He is survived by his sister Eleanor Tuminaro (Nate); nieces & nephews, Carlo Capra (Marge), JoAnn Kurtz (Emmett), Louis Capra (Janice), Cynthia Harker and Diane DelRossi. Harry was predeceased by his wife in 2013, Zena (Polomoshnoff) Capra; his parents, Maria (Spina) And Carlo Capra; brothers, Joseph (Helen), Louis (Della) and Charles " Frank" Capra and his sister Angelina Benvenuti (Hugo).
A graveside service and inurnment will be held Saturday, April 29, 2017 at 10am from Sacred Heart Cemetery, 741 E Walnut Rd, Vineland.
ARRANGEMENTS are under the supervision of Rone Funeral Service, 1110 East Chestnut Avenue, Vineland, NJ 08360
Donations are not requested, only your prayers for the repose of Harry and Zena
To send online condolences please visit our website at www.RONEFUNERALSERVICE.com