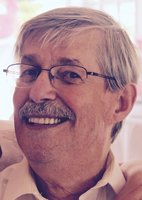 Joseph A. Garofalo
Joseph A. Garofalo, 75, a lifelong resident of Vineland, passed away on April 12, 2017 at The NJ Veterans Memorial Home. Joseph was born in Vineland to the late Anthony and Frances Garofalo and was a graduate of Vineland High School Class of 1961. Joseph served with the US Navy, stationed in Yokosuka, Japan, where he received a Good Conduct medal upon his honorable discharge. He was also stationed in California where he met and married the love of his life, Arlene. He and Arlene returned to Vineland and raised a family. Joseph worked for Thomas Fornataro Inc. Beer Distributors as a driver and then as a salesman. He went on to work in the sales department for Harrison Beverage Co. in Egg Harbor Township until his retirement. He was an avid sports fan, who loved all Philly sports teams. Joseph was always involved in coaching; he coached for the Vineland Midget Football League and never missed a Vineland High School football game. His greatest joy came from spending time with his family especially his grandchildren.
He is survived by his son Kent Garofalo; daughter & son-in-law, Jolene & Michael Gentile; two grandchildren, Gianna & Michael; brother, Lyle Garofalo; sister and brother-in-law, Beth & Ronnie Zanni and several nephews. Joseph was predeceased by his wife, Arlene (Feldman) Garofalo; his parents, Anthony & Frances Garofalo and brother, Archie Garofalo.
Funeral home visitations will be held on Thursday evening from 6pm to 8pm and again on Friday morning from 10am to 11am followed by a funeral service at 11am. Interment will follow in Siloam Cemetery, Vineland.
ARRANGEMENTS are under the supervision of Rone Funeral Service, 1110 East Chestnut Avenue, Vineland, NJ 08360
Donations in memory of Joseph may be made to:
Holy Redeemer Hospice, Building 500, 6550 Delilah Road, Egg Harbor Township, NJ 08234
To send online condolences please visit our website at www.RONEFUNERALSERVICE.com